MBHS Athletic Booster's
Student Athletes of the Month
The Morro Bay Athletic Boosters is an organization assisting all MBHS athletes through fundraising and promotion.  Each month, the Athletic Boosters would like to highlight certain athletes that are nominated by their coaches. These student/athletes are exemplary examples of leadership, sportsmanship, and athleticism. September's MBHS Student/Athletes of the month come from the Girls Golf team, Girls Volleyball, and the Cross Country team. 
Coach Yarborough shares the following about her student/athletes, "
For the JV athlete of the month:
Jane Taylor #19
As a sophomore, Jane does an extraordinary job of juggling two AP courses and two honors courses, all while leading our JV team as Co-Captain and starting Middle Blocker. She makes the most of every moment on the court, leading by example with her coachability, determination, natural instinct, and inspiring work ethic. She is an insightful, humble, and compassionate person, who consistently supports and lifts up her teammates with her positivity. We are grateful to have her as a member of our program. She is beyond deserving of this honor.
Frosh Athlete of the Month: #11
Megan Merson is our freshman Co-captain and has been a leader since the 1st day of practice. She sets the expectation and gives a great example to her teammates of working hard and taking ownership of her own positive attitude and her success.
Megan is an amazing athlete, a pleasure to work with and an asset to her team."
Coach Frere shares the following about her student/athletes, "
Lucas McAlpine – Lucas is a freshman who has really grown into being a leader among the younger runners. He has been running Varsity and is making a difference in our top 5 guys. He is at practice each day with a positive attitude and is ready to put in the work it takes to be competitive. He is excited about his running career and has goals of running even faster times in the future.
Gabriel Yanez-Michel – Gabriel started this summer as a brand-new runner and is making solid gains this season. Gabriel puts forth his best effort in whatever we are doing, whether it be our daily drills, core & band work, or running a workout. He is a role model for anyone on our team and an excellent example of how consistent work pays off for anyone new to a sport.
Wendy Wilson – Wendy has been training with the team since summer and is consistently one of our top girls. She loves to run, comes to practice energetic and always wants to do more. She enjoys learning how to run a course and practices strategies such as sharp turns. She will be a key player for the girls team in our Championship season this year."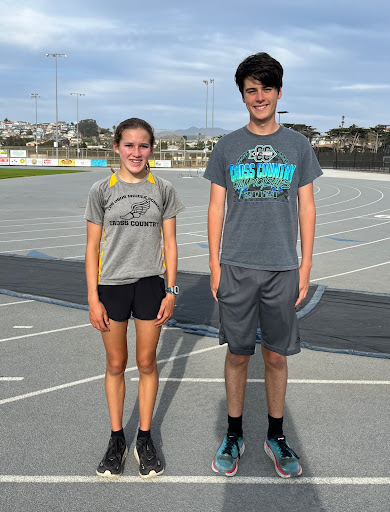 Cross country coach, Jennifer Frere, shares, "Senior Michael Pascual has shown true leadership in cross-country this season. Michael leads the team through warm-ups, drills and puts forth a solid effort in every workout. He volunteered at our home meet after his race to help make it a success. He is a wonderful role model for our new runners.
Freshman Shelby Taylor won our novice race at our home invitational this past weekend. She is committed to practice every day, showing up ready to work to get stronger and faster. Shelby always does her best and puts in that extra effort needed for a successful season."
The MBHS Athletic Boosters is a 501c non-profit organization dedicated to assisting all athletics at Morro Bay High School. Athletic Booster meetings are held the 2nd Monday of each month and all are welcome to attend. Please visit our website, www.mbhsab.org, for additional information of membership, season passes, and ways to help the Athletic Boosters with your donation of time or resources.